We have some sample thank you certificate templates below. You can change any border or background so this is just a small sample of the designs available. We also offer a certificate of appreciation and a certificate of recognition.
Thank You Certificate Template
Pretty Floral Templates
Free printable thank you certificate templates that are more suitable for women. They can be edited to create a gift card, greeting card or a thank you gift certificate template.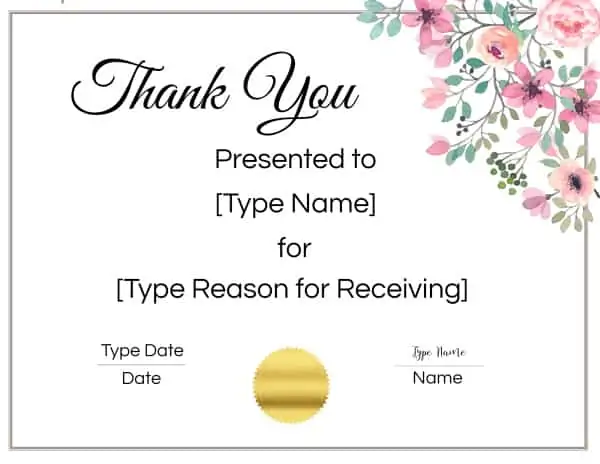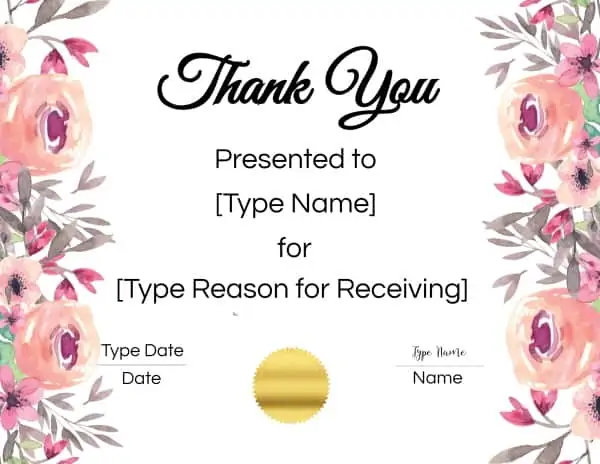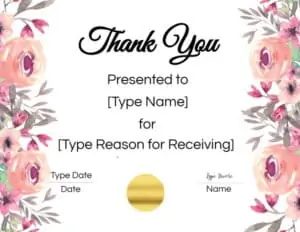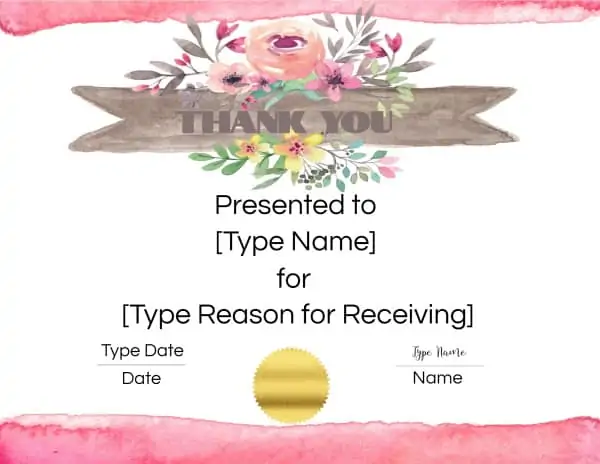 Formal Templates
The following templates can be used for any certificate of thanks and appreciation such as a thank you certificate for employees or volunteers. The designs are pretty formal. This is only a sample of the designs available and you are sure to find one you like.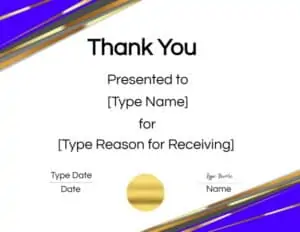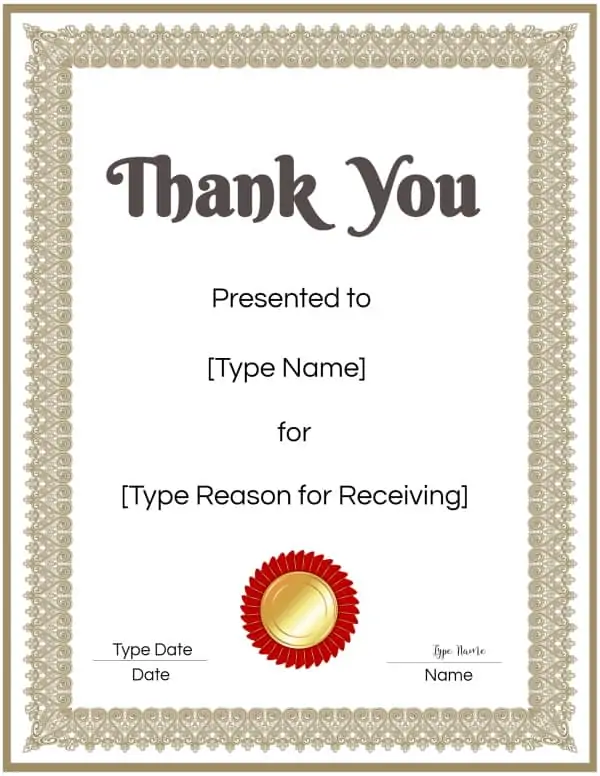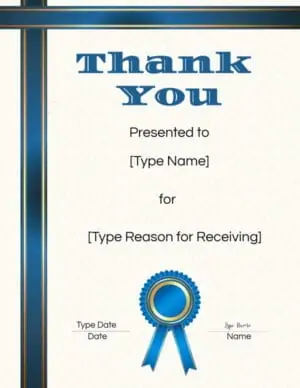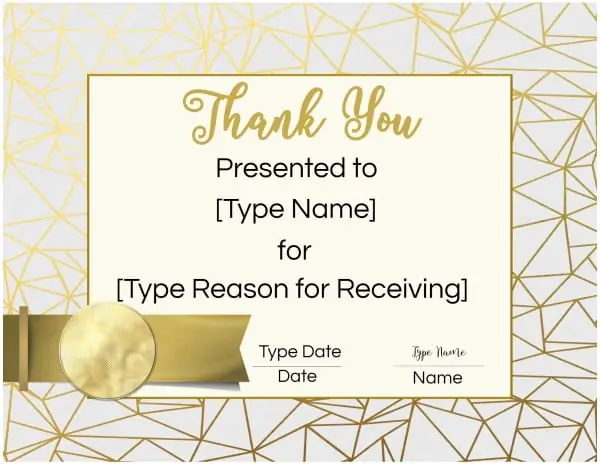 Cute and Childish Templates
These designs are cute and childish. You can use one to create a thank you teacher certificate or awards for students who helped others at school. When students help others or volunteers give of their time, rewarding them will both motivate them and others to do the same. It costs practically nothing to make these certificates and their impact can be great.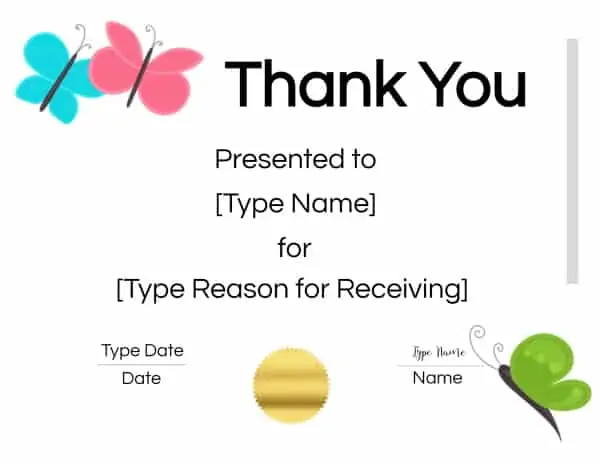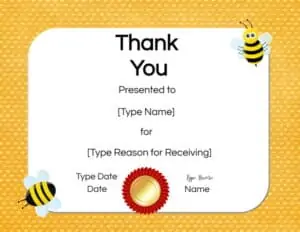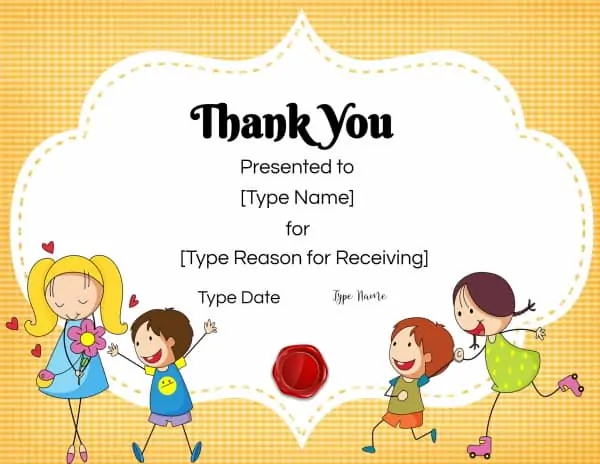 Thank You Certificate Format
There is no required format for a thank-you award. All the templates have the following dummy text which can be edited:
Thank You
Presented to
[Type Name]
for
[Type Reason for Receiving the Award]
Date and Signature
You can make any changes to the thank you certificate wording. Add text, delete text, and move text around. You can also change the font and the font size.
---
Use these award templates to acknowledge something that someone did for you or gave to you. It can be a student, employee, volunteer, or donor.
The printable can be given as-is or with a symbolic gift such as flowers or candy. It's a great way to express gratitude and show your appreciation.
If the award is given for a specific event then you might want to mention the event and the place and the date it took place.
How do you change the border or background?
Click on any of the black buttons above to open the certificate maker.
In the far right corner, you will see a selection of the ready-made certificates available. If you like one, click on it to open it.
Click on "select background" to select a background. If you prefer your certificate to be in portrait orientation (vertical) then first select a portrait template.
To change the ribbon, select another ribbon.
Click on download to download the certificate to your PC.
You can then print it or send it by email or WhatsApp.
Uses for these templates
Thank you for a gift, service or for any help received
Donation certificate template
Years of service certificate