Free printable graduation certificate template that you can customize before you print. You can add your school's logo and/or name. You can also edit the text.
Since all the text is editable if you prefer to write "Diploma Certificate" instead of "Graduation Certificate" you can just change the text. See Preschool and Kindergarten Graduation certificate templates.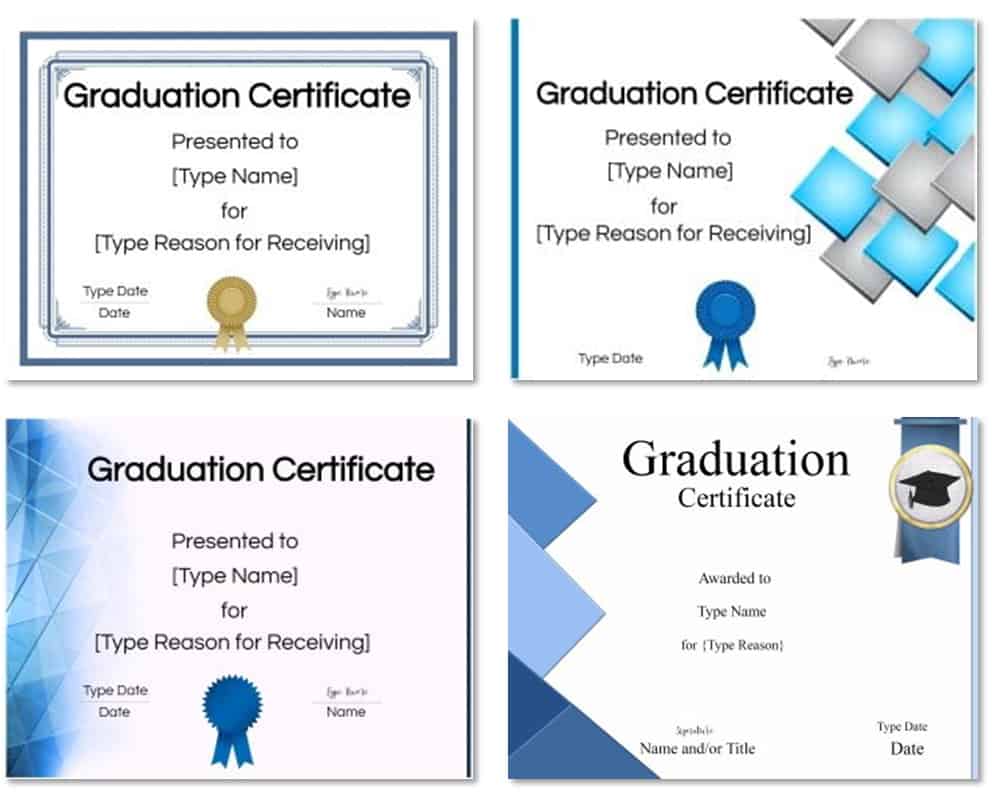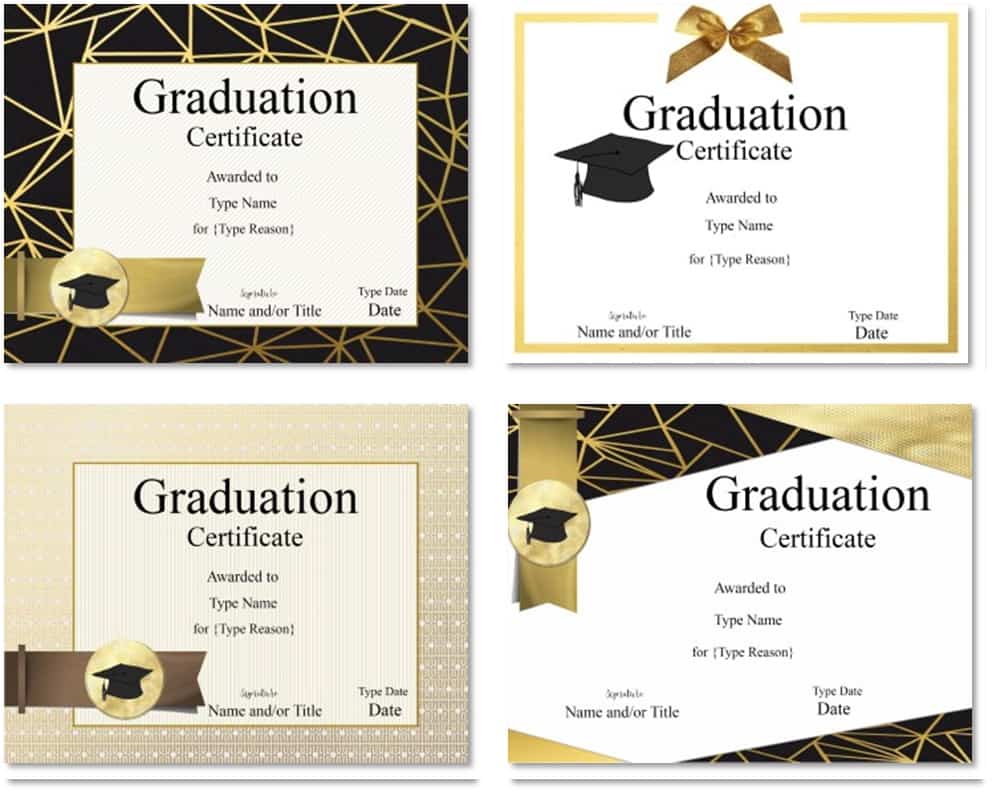 Click on the button above to open the free online certificate maker.
How to add the logo of your school or institution?
Firstly, select the template that you will be using. Click on "customize" to open the certificate maker.  Click on the image icon to add an image (your logo). Select the logo file (it should be saved on your PC). It will be automatically inserted into your certificate. Move it around to wherever you would like it to appear. You can also make it larger or smaller according to your preference if applicable.
What happens if your logo has a white background that is shown on the certificate?
If you have a logo in png or gif format with a transparent background then use it. If not, then you can make the logo background transparent with graphic editing software such as Photoshop or Paint.net.  Paint.net is a free program that can be downloaded from the internet. It is simple to use compared to Photoshop, which has more features but can be overwhelming for someone who only wants to remove a background from a logo and has no Photoshop experience.
How to remove background with Paint .net
Download Paint.net if you don't already have it. Click on the magic wand and then click on the background. Play around with the tolerance until the entire background is selected. If only part of the background has been selected then increase the tolerance. If part of the logo has been selected then decrease the tolerance. Keep doing this until the entire background has been selected. Click on "delete". Save your logo as a png image.
How do you make a logo?
If you want to add a logo but do not have one, then you can create one with this free logo maker.
How to change the award ribbon?
On the award ribbon is a picture of a graduation cap or another related image. You can replace this image with any of the images that appear in the gallery, such as a scroll, cap, or tassel. Select the image that you would like to use and it will replace the image used in the sample template. You can also just use an image of a ribbon or seal.
What age are these graduation diplomas for?
They can be used for any grade level at any school (such as a high school diploma) or even for higher education in universities or colleges (such as a bachelor's degree or graduate degree). Edit the details for your specific use. For example, if you use them for a university, then add the university name, university logo, the degree title, the student's name, and the date of graduation. You can also use the certificate border for other purposes, such as creating a list of degree requirements or for an official transcript.
These certificate of graduation templates are also very useful for schools that need to produce a replacement diploma for students who have misplaced their diplomas.
How to create kindergarten graduation certificates
You can use these certificate templates for your end of the school year celebration in preschools and kindergartens. They are more official than our certificates for kids.
Create beautiful certificates to hand out to kids on graduation day or at your graduation ceremony.
If you are creating preschool or graduation certificates, then see our certificates for kids or preschool and kindergarten graduation certificate templates.
How to edit the text
You can edit all the text on the certificate template including the following details:
child's name / student's name
school name
date or year of graduation
description of the accomplishment (such as graduation or course completion)
You can also change the title to "Certificate of Completion" or "Certificate of Achievement".