Free printable Santa nice list certificate that you can edit and download. You do not need any software to edit the certificate. This is a cute printable to let your children know they are on Santa's nice list.
You can either type the details of each child before you download the template or you can print a blank nice list certificate and write the name and date. Both options are free.
You can edit all text on this Santa certificate so feel free to use it for any purpose. You can also add a photo of the recipient.
Add clipart with a click of your mouse!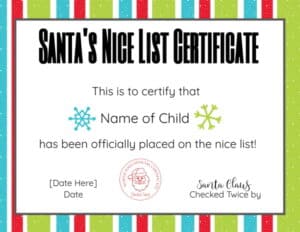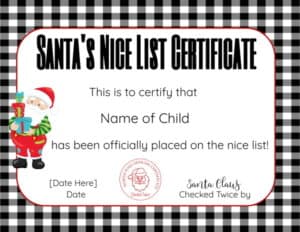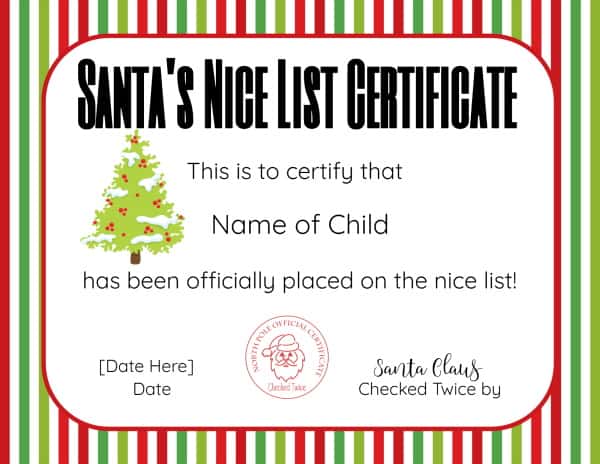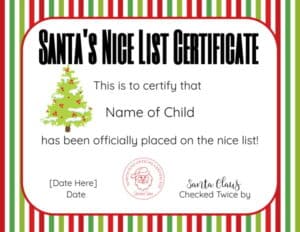 How to Edit the Certificate Template
Click on the black button to open the certificate maker.
Select any template. There are six different designs available. However, you can change the border in the next step.
Click on the selection of borders to change the border. There are many different Christmas borders available.
Add Christmas clipart. Click on the clipart to add it to the certificate. You can then drag it anywhere and make it bigger or smaller. Add as many images as you want.
Edit the text. Replace all the dummy text with your text. You can also add additional text if you want.
You can add a photo of the child if you want. To do this, click on add photo.
Download the nice certificate. There are four different formats available.
See Santa's Naughty or Nice List
What is Santa's nice list?
The "Nice List" is a list of children who have been good and well-behaved throughout the year, and as a reward, Santa Claus brings them gifts on Christmas.
The idea of the Nice List is used as a way to encourage children to behave well and to instill values such as kindness, generosity, and respect for others. It is often used as a motivational tool for children to strive to be their best, with the promise of reward for good behavior. Children who are on the Nice List are said to be "good" and "nice," while those who are not on the list are said to be "naughty."
The Nice List is often depicted as a tangible document kept by Santa and his elves, which is updated throughout the year to reflect a child's behavior. This site helps you create such a list in under two minutes.