Employee recognition and programs promoting excellence in the workplace can be very effective. When employees are more motivated to work they usually provide better service to clients and customers and are more efficient. This, in turn, increases revenue and profitability. An excellence award certificate should not be given to employees for doing their job. They get a salary for doing their job. A certificate of excellence is given to reward effort above and beyond their responsibilities. The idea is to encourage business excellence both in terms of effort and results.
Student recognition and programs that promote academic excellence also encourage and motivate students to succeed in their studies. Recognize your students' work an effort when they acquire skills, complete major tasks, and accomplish achievements.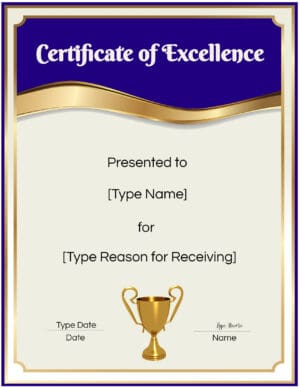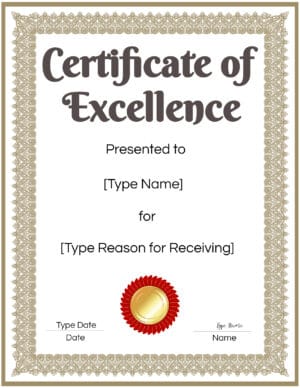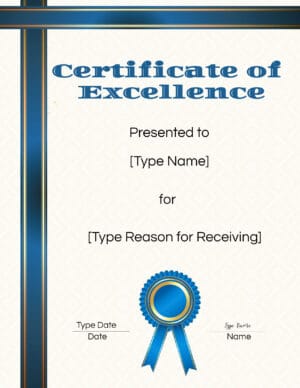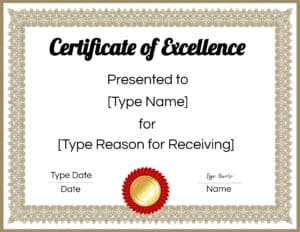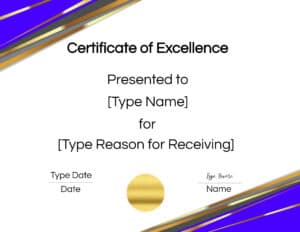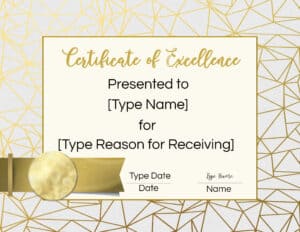 How to Create an Excellence Program
Ensure that your expectations are clear and employees understand how you define excellence. Explain which traits are encouraged in the organization. Make it clear how you define success. Publish the goals of the company in general and employees specifically.
Make the connection between a job well done and the recognition received. If an employee goes above and beyond and you want to recognize that achievement then give the excellence award as soon as possible after the effort was made. This shows employees that their efforts are recognized and appreciated.
Provide incentives. In addition to the certificate of excellence, many companies also award prizes such as a raise, cash bonus, a dinner voucher, weekend away, etc. There should be different prizes for degrees of excellence. The greater the achievement, the greater the prize.
How to Customize a Certificate of Excellence Template
Most companies will want to use an excellence award certificate template with a format and design that is appropriate for the organization or institution. We offer many free editable certificate templates that you can customize to adapt to your company's style. You can change the font and the text. You can also add a logo. We do not add a watermark to our certificates which is very important for companies. It does not look professional to use an award certificate with a watermark.
Select any editable award of excellence template from the selection above.
Change the border or background if you prefer.
Select any award ribbon.
Edit the text.
Add a signature or sign the printed copy.
Download and print.
To make a blank template, delete any text you don't want to appear. To delete text, click on it and then click on the trash can in the bottom left corner.
Schools can either use the certificates of excellence above. Use any of the award templates above to make certificates for academic excellence. However, if you prefer a design with a school theme, then please check out our awards for students.