Free printable certificates of achievement you can customize before you print or download. You can change the border and the ribbon. You can also edit all text and add a logo. Click on any certificate of achievement template to start customizing.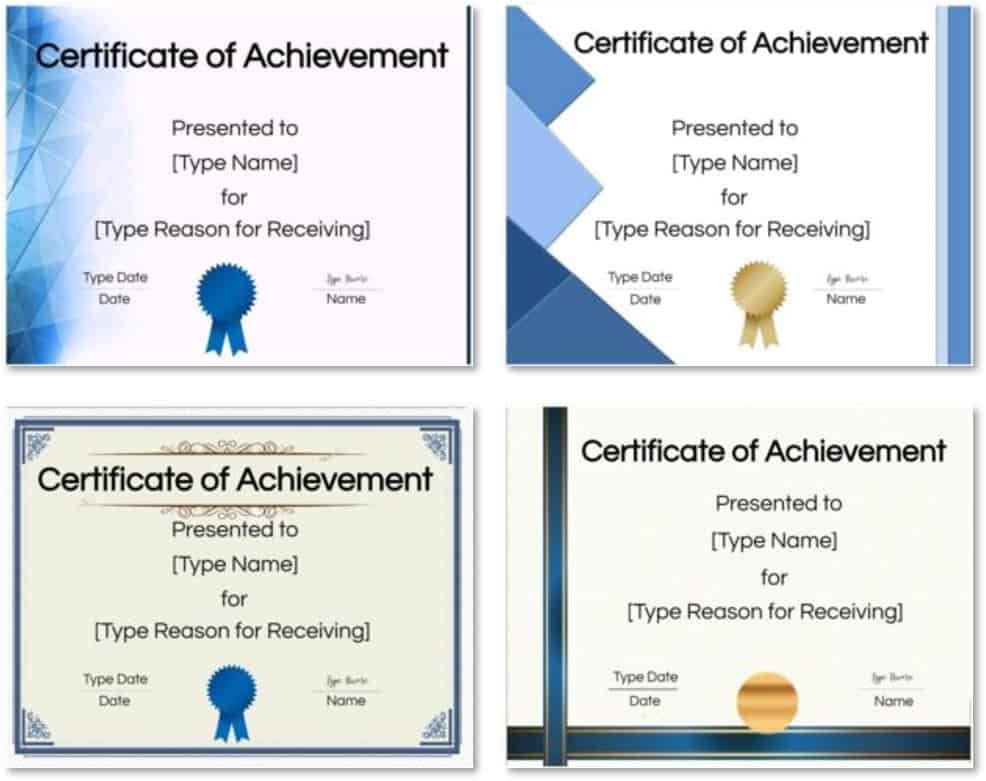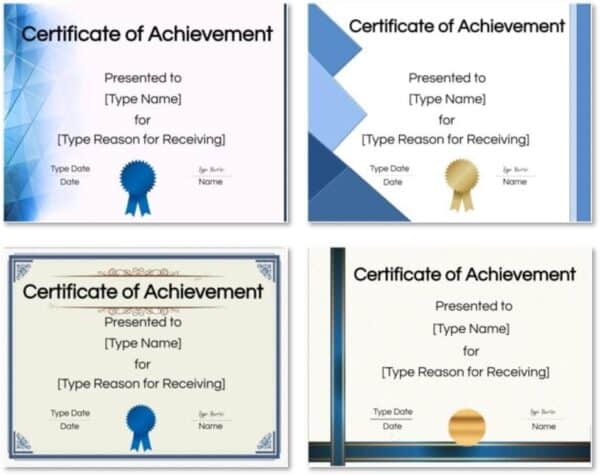 ---
What is a certificate of achievement?
This is an achievement award template you can customize to award a recipient for achievement in any field such as education, place of work, etc. You type the name of the recipient, the reason for receiving the award, the date, and the signature of the person authorized to present the award. You can also add additional information.
Certificates of achievements are usually given to people who have demonstrated a remarkable grasp of specific topics or performances. The certificates can encourage people to meet their goals.
How to make a printable achievement award
You can create an achievement award certificate with our free certificate maker. It enables you to select any certificate design, any award ribbon, and edit the text. You can create unlimited custom certificates free of charge. Once you open the app, you will see more certificate designs than you see on this page. You can also change the border or background and select the award ribbon.
Once you are satisfied with the design, layout, and text, you can download the certificate of achievement free of charge and then print it. There are different options to download. You can choose an image file (jpg or png) or a pdf document.
Suggested Wording
Each achievement certificate template has sample wording. If you would like to edit the text and change the wording you can copy these sample wording examples.
The (company name) awards this certificate of achievement on (date) to (recipient name) for their exceptional contributions to (subject). Your devotion and diligence to (topic) have surpassed our expectations.
Congratulations on achieving this milestone! You have worked hard for this accomplishment, and we really appreciate your dedication.
This certificate is proudly presented for the honorable achievement to (recipient name) award on this day of (date)
For extraordinary achievement and commitment to excellence during (name of exercise/task). Your determination and drive for self-improvement were evident in your accomplishments.
For your remarkable perseverance, you are a credit to (company name), and we hope you continue with us in our organization.
How to Edit the Text
You can change the text by typing your text in the column to the right. You can also double-click on the text to replace it. You can change any line with these fill-in-the-blank award certificates. For example, if you want to create a certificate of accomplishment, then simply change the title.
How to make a template for MS Word
Our free certificate generator enables you to insert the details into the certificate of achievement online so you do not need Microsoft Word to edit the templates. However, if you prefer to create an award template in Word then you can use our templates to do this. Firstly, delete all text to create a blank certificate of achievement and download the blank version to your PC. Open your Word document and go to insert -> image. Select the blank certificate of achievement and insert it into the document.
Uses for these awards and certificates
Since you can edit the text with our free certificate generator, the free achievement certificates can be used for multiple purposes such as:
1st place certificate
Honorary award template
Award certificates for work or school
Classroom award