Employee recognition is a powerful way to increase morale. It can lead to lower turnover rates, higher employee engagement, and higher customer satisfaction. It also makes the company look good to their clients.
Recognizing employees who have been with a company for a long time is important to show appreciation and to retain employees. Recognition of years of service is a way to thank the dedicated employees for their hard work and show appreciation. It is important for employees to feel appreciated for their efforts and years of service.
Employee anniversaries are often celebrated with awards, certificates, plaques, trophies or gifts from the company. Some companies even offer gift cards, which can be used in various ways such as to purchase movies or books.
Milestone awards are a way for companies to recognize individuals who have been with the company for a long time. Some companies may award service milestones after an employee has been with them for 10, 20, 30, or 50 years.
Employee recognition for years of service depends on the company policy
Years of Service Award Template
The text is editable so if you like a certificate template design but it is for 10 years of service and you need an award for 20 years of service then simply edit the number.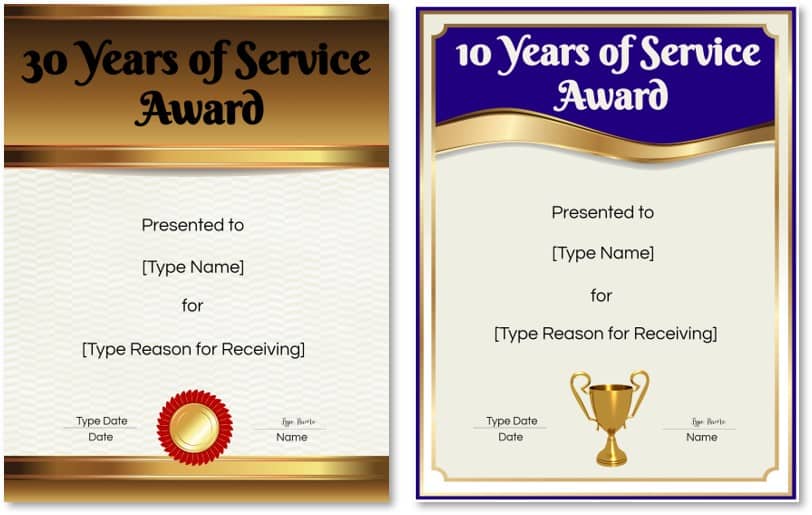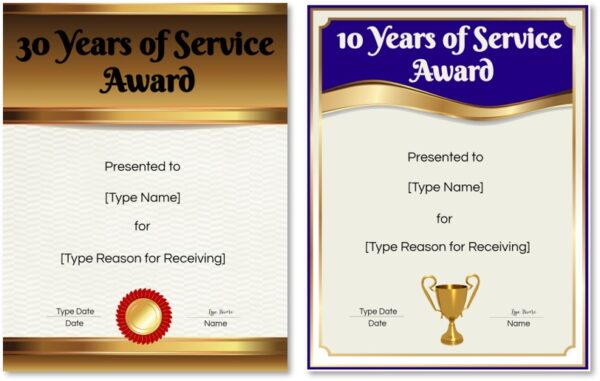 Years of Service Award Wording
It's vital to recognize employees of their significant milestones and service anniversaries. When you want to give the years of service award certificates to your employees, you need to have a message of appreciation to accompany the award.
Here are some sample year of service award wording examples:
Presented to (recipient name) (Job Title) (starting date- retiring date) In recognition of your retirement. Your continued dedication and efforts towards (company name) have truly made the organization a better place for employees and customers.
(Recipient name), with this award, (company) recognizes and appreciates your ongoing enthusiasm and dedicated years of service.
In honor of (number of years) of your commitment and loyal service
Congratulations on achieving (number of years) anniversary with (company name)! We know you've worked hard for this achievement, and we really appreciate your dedication.
Throughout the years, your efforts and talents have helped our (company's) success. Thank you!
30 Years Service Award – awarded to (recipient name) for
---
Some organizations create recognition programs that have an element like Employee of the Month, so that employees feel appreciated on a monthly basis, not just annually on their anniversary. See Certificate of Recognition