A selection of free printable soccer certificate templates for coaches and soccer moms. You can customize each soccer award certificate with your own text and image. Since you can change each element, your soccer certificates can be unique.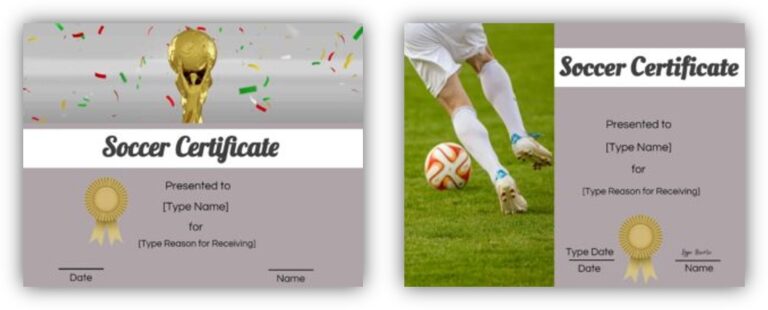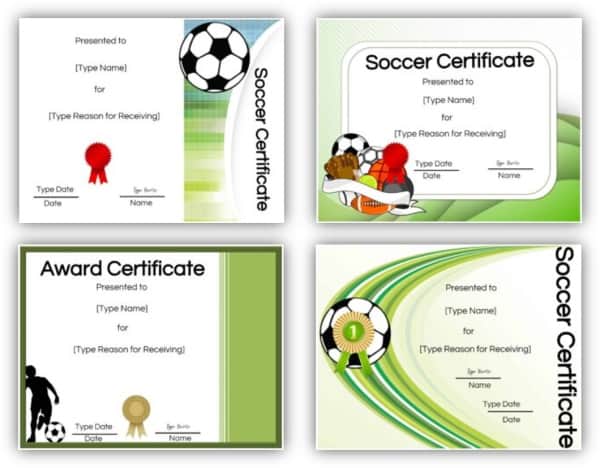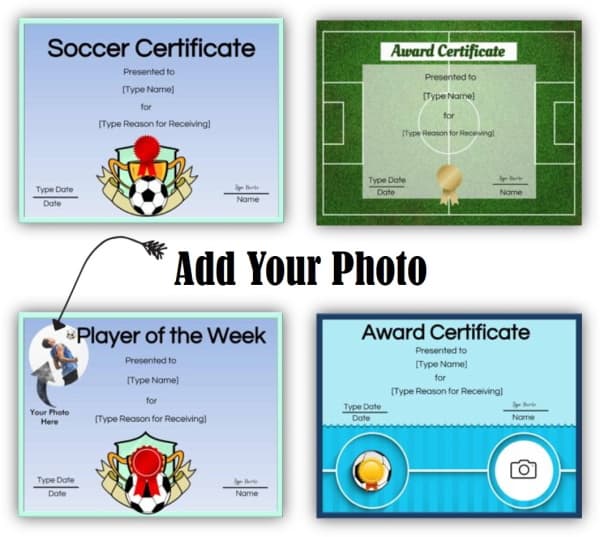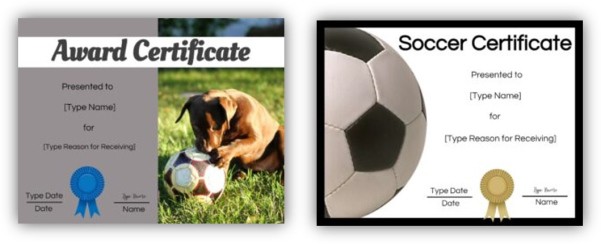 The above soccer award ideas were all created with our free certificate maker. You can create kids soccer awards or awards for youth or adults. Select the template most appropriate for the relevant age group.
Fill in the player's name, the reason for receiving the award, who is presenting the award, and the date. You can edit or delete any line so feel free to make any changes.
You can also add the name of the soccer club or soccer league. In addition to the name, you can upload a logo (if you have one).
Some of the certificate templates have space for a photo. You can add a photo of an individual player or of the entire soccer team.
How to Create a Soccer Participation Certificate
The text on each certificate template can be edited. Open the soccer certificate maker.
Select a template design that you like.
Edit the title to read "Soccer Participation Certificate" or whatever title you want to use.
Edit the certificate wording.
Soccer Award Ideas
Each soccer award template can be used for any award related to soccer. Here are some soccer certificate ideas:
Man of the match certificate
Player of the day
Player of the week
Player of the month
Player of the year
Best player of the series
Best goalie
Most impressive goal kick
Most incredible goal
Most improved player
Most dedicated soccer mom
Best coach
Coolest coach
Best assistant coach
Coolest assistant coach
Best team spirit
Best Defense
Best Offense
Longest dribbling award
Most enthusiastic goalkeeper
Longest shot
Highest number of goals
Best teamwork
Most motivated  player
Most supportive player
Most supportive parent
Perfect practice attendance
Perfect game attendance
Most valuable sponsor
Most supportive sponsor
Most improved player
Most valuable player (MVP)
Certificate of sportsmanship
Most stamina
Funny Awards
Here are some ideas for funny awards if you know that your players will not be offended:
Late most often
Maximum penalties
Least motivated
Most creative excuses
Most missed goals
Most skeptical player
Most pessimistic player
Most positive player
Best Hair
Do you have any other award ideas? Please feel free to comment below and we will add your ideas to the list!