Create your own custom certificate of completion with the border and ribbon of your choice, and your own custom text. You can also add your logo. Each printable certificate of completion template can be totally customized. There are so many different options available that your certificate is bound to be unique.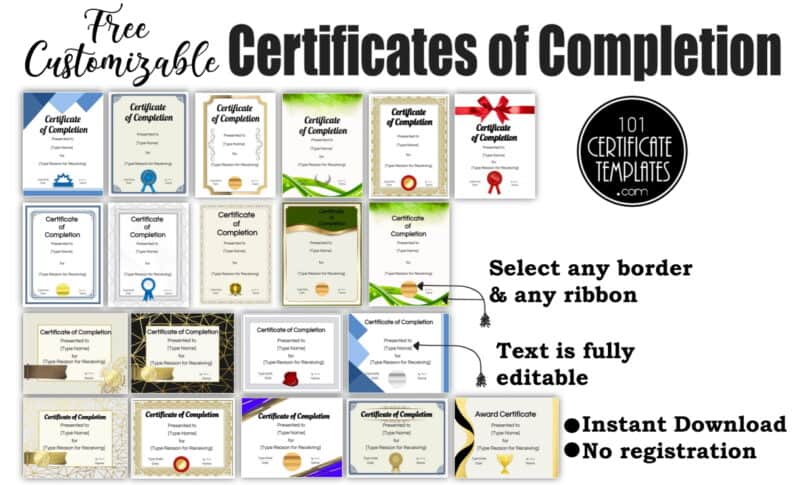 Select any certificate of completion template free of charge and edit it online before you print. Click on the button below to open the free online certificate maker.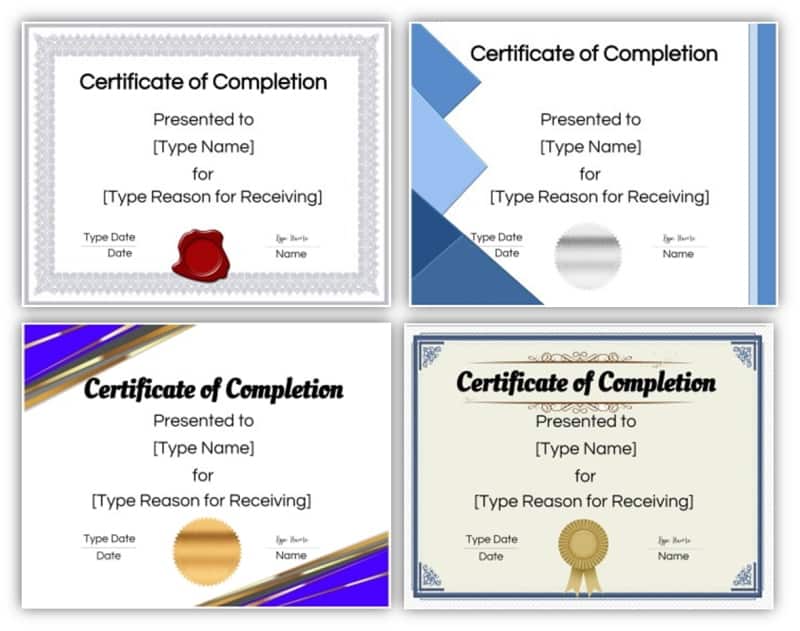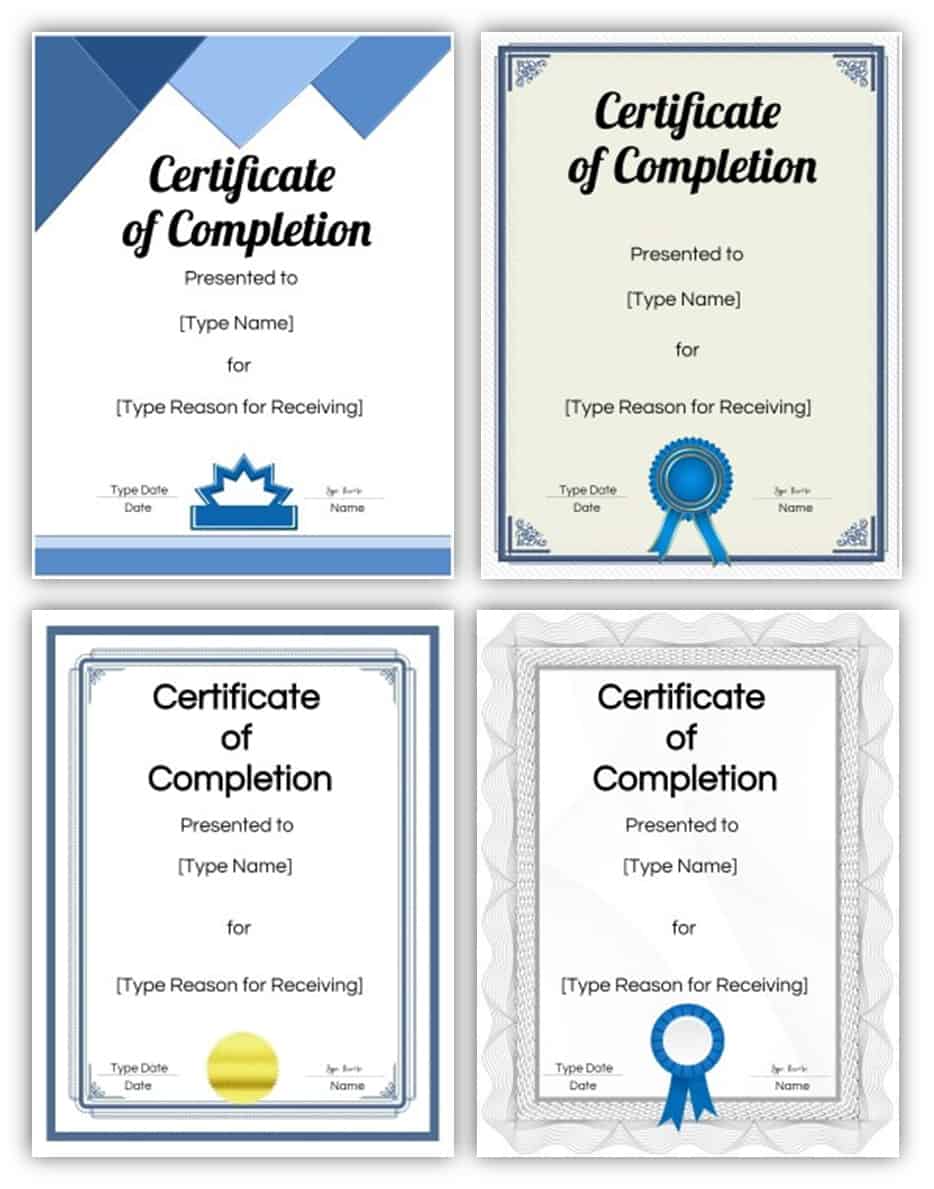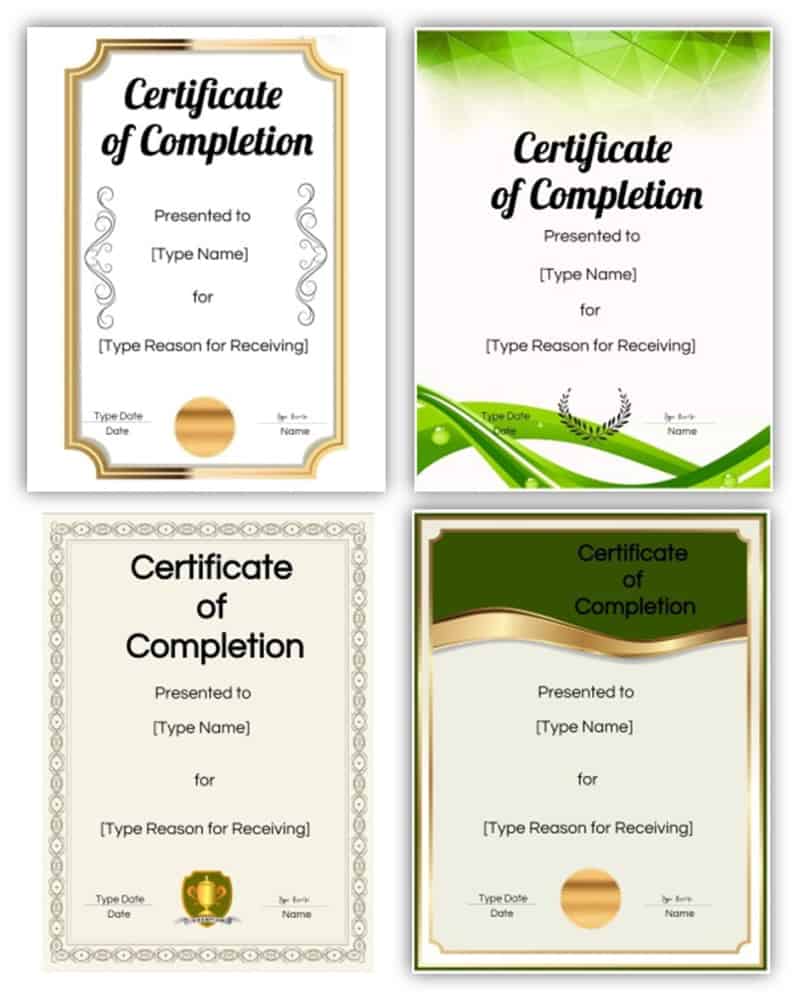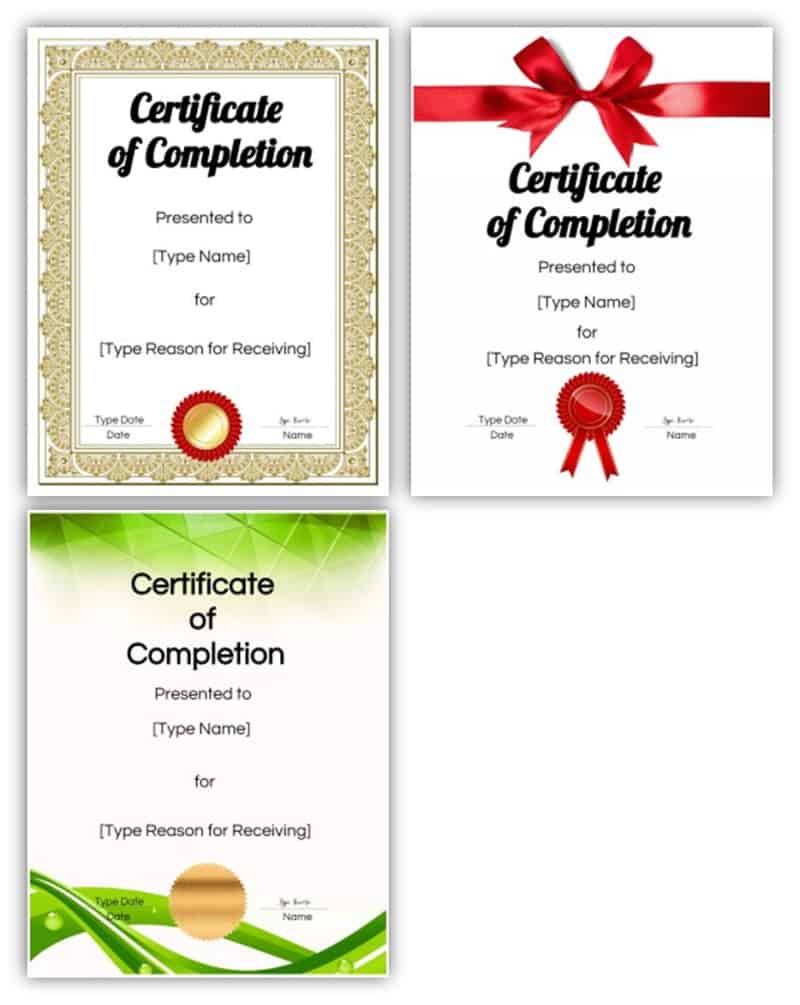 What is a certificate of completion?
A certificate of completion is a document that certifies that a person has successfully completed a course, program, project, or event. It is often used to acknowledge the achievement of a certain level of education or training, and can be recognized as proof of competency in a particular field or subject or completion of a program.
For example, when given at the end of a course, it is proof that the recipient completed the minimum requirements for the course of studies.
Is a completion certificate enough to get a job?
If a specific course is required to get a job then a completion certificate confirming you have completed the course should suffice. If the job requires academic education then the completion diploma is probably enough. For certain jobs, the requirements might be both an academic degree and completion of a specific course. It really depends on the job and the profession.
Sample Wording
Generic
The certificate of completion indicates that the person has met the standard requirements of their coursework successfully. That means they've been able to attend the required percentage of the session and have submitted to necessary assignments.
Sample wording examples:
This certificate is endowed to you for the completion of (project name) at our organization.
(Facility name) presents this Certificate of Completion to (recipient name). You have remained extremely supportive and efficaciously surpassed expectations.
Certificate of completion: This verifies that (recipient name) has completed the requirements for the (course name) from (facility name), demonstrating advanced understanding of(skill acquired).
(Recipient name), For your active and invaluable participation, this certificate is awarded for completing the workshop on (training program).
To (recipient name), for your high level of contribution and excellent performance, we award you this certificate of completion (skills title acquired)
School
A student certificate of completion makes them eligible to participate in the graduation ceremony. It also allows the student to exit the school with dignity and honor. After all, completing a course in school is an accomplishment that deserves to be acknowledged.
Sample wording examples:
(School name) is honored to present (recipient name) with the certificate of completion for (course). Your participation will be remembered, and your achievement cherished.
Having met all criteria and requirements, this certificate of completion acknowledges (recipient name) has successfully completed (name of course) led by (instructor name) at (name of facility)
(Institute name) is proud of your dedication and passion for excelling in this course.
Certificate of completion conferred upon (recipient name) for satisfactorily completing the requirements for (course name) a continuing course offered at (school name).
The certificate is awarded to (recipient name) for completing (workshop name). Thank you for demonstrating the type of integrity and character that inspire others.
Professional
In the corporate world, the professional certificate is a vital award that offers assurance and credibility that crucial standards in a certain field have been assessed. Besides, a professional certificate of completion can qualify the recipient for a spot they've worked tirelessly to earn.
Sample wording examples:
Certificate of Completion: This is to certify that (recipient name) has completed successfully (course name) at the (Facility).
(Company) proudly presents the certificate of completion to (recipient name) for the hard work and dedication that led to the successful culmination of (professional course).
This certificate of completion is hereby bestowed upon (recipient name) for successfully completing (Course) at (company) with exceptional performance
(Recipient name) is hereby certified as (title of professional certification) after successful completion of (training program name)
For executives and professionals, completing the (course) and demonstrating distinguished contributions and outstanding achievement.