We all rejoice when a new life comes into the world, and we celebrate because a novel soul is born in service of the Lord. Nothing is as beautiful as that. It's a new rite of passage in life, and we mark it with all the jubilation we can master. What follows next is the parent's responsibility to give their child to the church, known as baby dedication. It's a process done by Christian parents to fulfill the promise from the book of Luke 18: 15-17.
We offer a large selection of free printable baby dedication certificate templates that you can edit before you print.
What is baby dedication?
A dedication is a Christian ceremony that devotes a child to God and welcomes them into the church. Parents also promise to raise them in a Godly way, teaching them the ideal life of a Christian. This obligation is on par with the book of Proverbs 22:6, which instructs parents to raise their young ones to know and cherish the Lord so that they don't depart from His path even in old age.
Baby dedication ceremonies are a milestone event in every young Christians' life and signify a vital commitment to the church. This occasion reminds them of their dedication to living by the light and doing as the Lord commands so that they grow up to be God-fearing adults.
What is a baby dedication certificate?
Soon after dedicating the baby, Christian parents symbolize their commitment to guiding their child to walk in the light with a certificate bearing the baby's name. It shows that the church has welcomed the child to the Lord's kingdom and is bound to live by His ways. Besides, a dedication certificate serves as a keepsake for this significant ceremony.
Conventionally, most baby dedication events not only commit parents to raise a child in Godly ways but tie Godparents to this task as well. A Godparent usually pledges allegiance to work together with the parents of a child to raise and guide them on the right path, with Christian values. These too are provided with certificates as a souvenir to this crucial Christian occasion, although they aren't a typical legal document.
The word baby does not appear on the template and you can use it to create a child dedication certificate as well. If you choose a photo template then add a photo of the child.
Free baby dedication certificates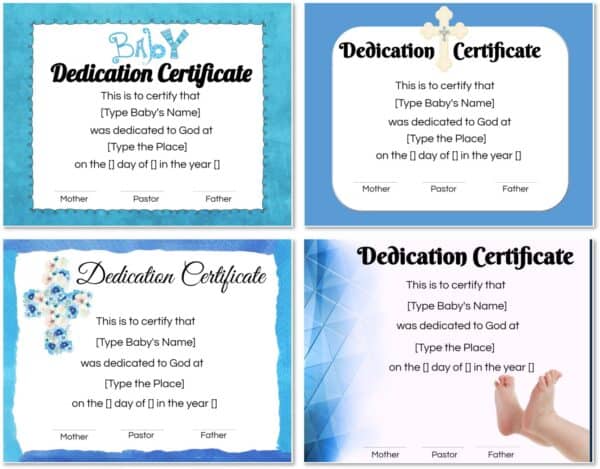 What information should a church include in the baby dedication certificate?
A baby dedication certificate is a legal document credited by church associations, and as a ritual, it should contain essential information about the child. It should include the baby's name, date of birth, and date of determination. Besides, the certificate should consist of the church's name and emblem and the church leader's names and signatures. To upload your church emblem, click on "Add Image". Most importantly, it should contain a declaration of both parents who should sign against their names.
The certificate format isn't usually pre-determined, and churches can format them according to their taste. Most church unions prefer keeping the certificate memorable and straightforward, with only a few necessary details. Also, including a relevant verse with a message about the event is common in most certificates of baby dedication as they give a seal of command of what the Lord requires of His people. To add a verse to the certificate, type it under "Add text" and then click on "Add text".
Sample baby dedication wording
Baby dedication certificate formats are usually different from each other. So long as the vital information isn't left out, any design can be okay. Here is a word sample of a conventional baby dedication certificate
We…………. And………… dedicate ourselves to the Christian nurturing of ………… We are faithfully entering this commitment at………..
Signed this……………..
……………… ………………. ………………
Pastor Father Mother
Witnesses
…………….. …………………
……………… …………………
What is the difference between baby dedication and baptism?
Mistaking baby dedication with baptism is easy. Both are essential ceremonies that God obliges His people to do but carry various significance by nature of their occurrence. Baptism is sacramental, unlike baby dedication, and involves the ritual use of water to signify new life in Christianity and the commitment to live in a Godly way. Conversely, baby dedication commits a child to the church, with parents making their solemn vows to guide their child through the path of Christianity. See Baptism Certificate
How to make your baby's dedication memorable?
There are many ways to make your baby's dedication beautiful and memorable. One great way is to have as many members of your family present as possible. Also, Invite relatives and friends as well to bear witness to the milestone event. In addition, give your child the best look by dressing them well, probably with shiny satin suits or dresses. You can also find a proficient poet to write a moving poem dedicated to your child. Don't forget to fetch a camera with you to record videos and photos to watch in the future.