You can edit any certificate of participation template free of charge. Select any border or ribbon and edit the text.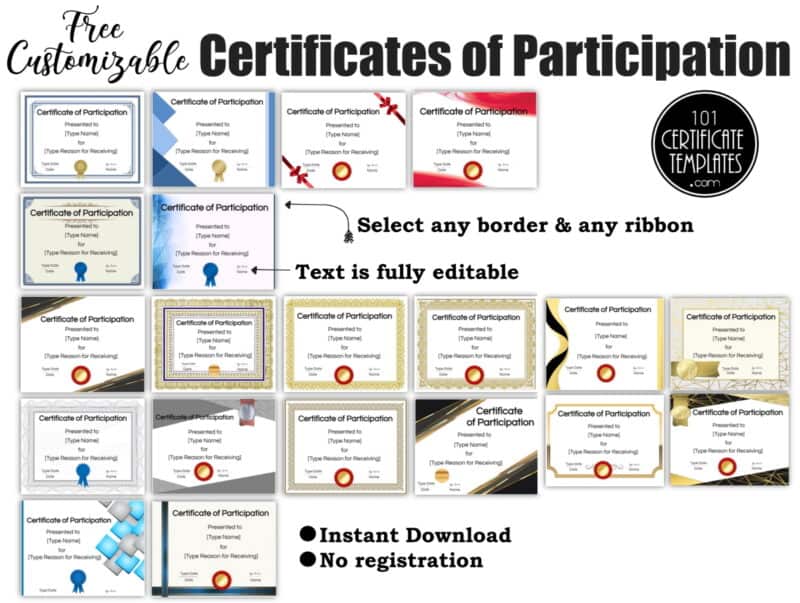 Uses for these Certificates
A printable certificate of participation is very useful in a number of circumstances.
Participation in an educational program – many educational programs require participation in order to be eligible for a diploma or graduation certificate. Sometimes, no certification is awarded but participants request a certificate of participation to show potential places of work that they have undergone specific training.
Participation in a conference, seminar, or workshop – if you are organizing an event you might want to create a conference or workshop participation certificate template as proof that participants attended the event. This will also serve to remind participants about your business and they might want to attend another conference in the future.
Participation in addiction rehab programs – sometimes addicts are required to undergo rehab. The participation award template can detail the rehab program they participated in and the number of hours it lasted.
Community service – people are sometimes required to participate in events as a consequence of their actions. They will need a certificate to prove that they have fulfilled this requirement.
Participation in a parenting course – this might be required to qualify for child custody or out of choice for a parent to feel they have undergone training that will help them become a better parent.
Suggested Wording
Each certificate of participation template includes dummy text that you can edit to fit your needs. Click on the button above to open the free online certificate maker. You can edit each word but there are certain things that you should include:
The name of the organization awarding the certificate. You can also upload a logo if you have one.
The name of the recipient. Make sure you know how to spell each recipient's name. Some people are very offended if there is a typo in their name. If you don't want to be bothered personalizing each certificate you can create a certificate of participation without a name. To do so, delete the name by clicking on the trash icon in the bottom left corner. You will then be able to distribute a copy of the same award certificate to each participant. This is not appropriate if the participants will need proof of participation. However, for big events, it can be a huge time saver.
The name of the event.
The date the event took place.
If the certificate is official, then it is important that it is signed by those authorized to sign it.
The certificate design and format should be appropriate for an event. A formal event will require a more formal template whereas for a fun event, you might prefer a less formal design.
See a sample certificate of participation template above.