We offer a selection of free printable congratulations certificate templates that you can customize for any achievement. There are many different designs and layouts and you can edit all the text. Click on the button below to open the free online certificate maker.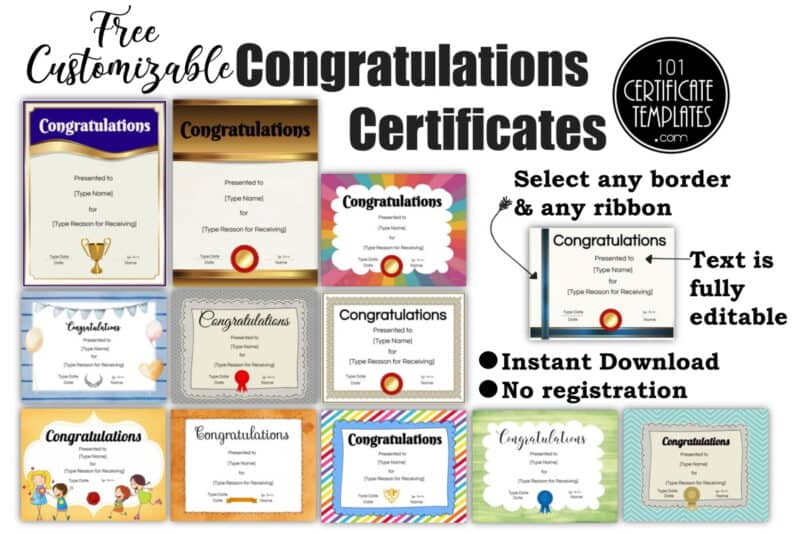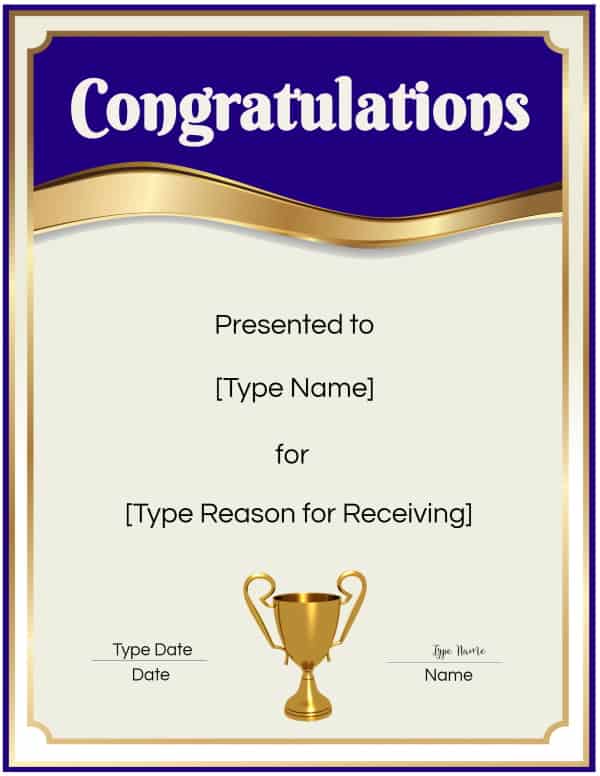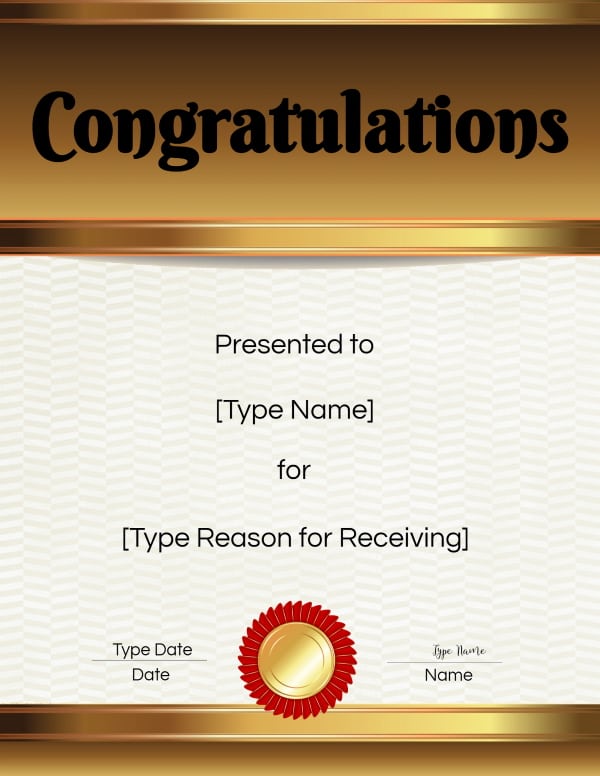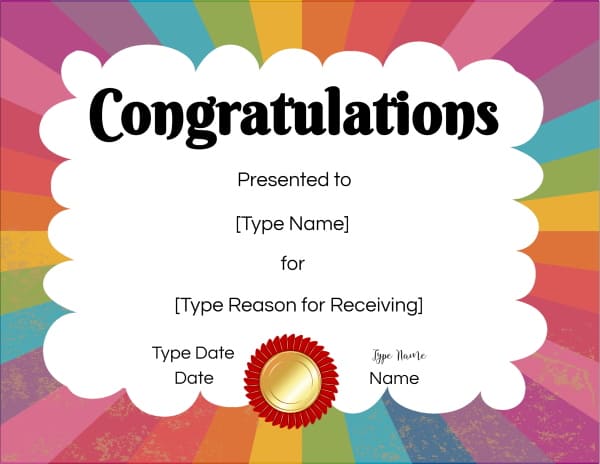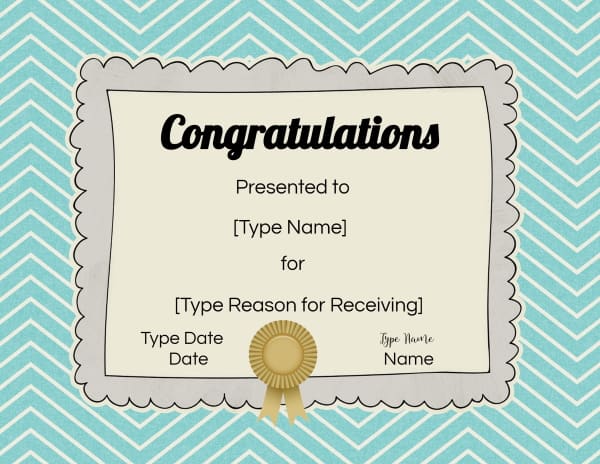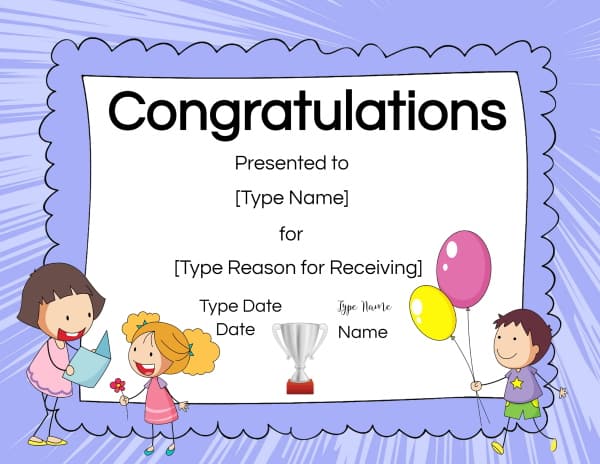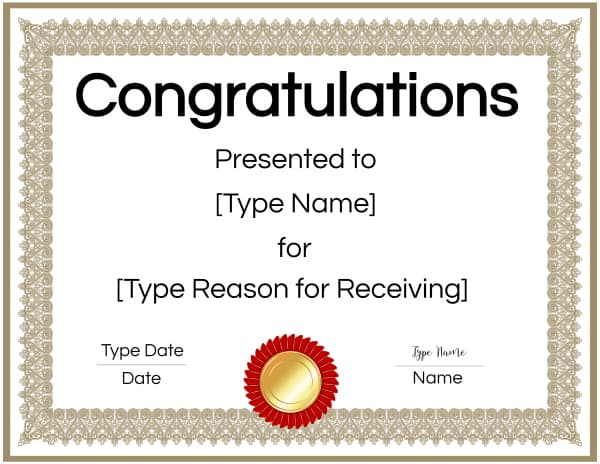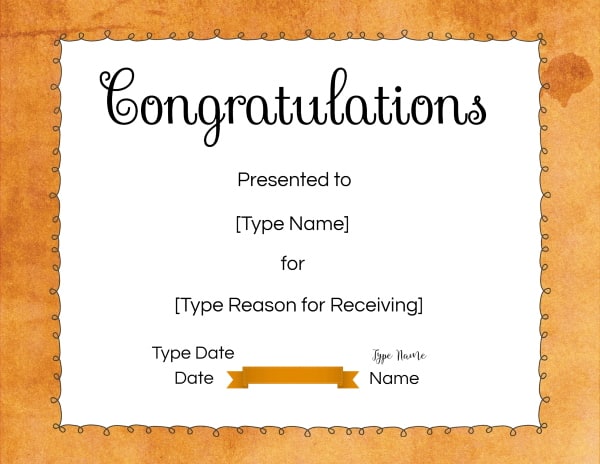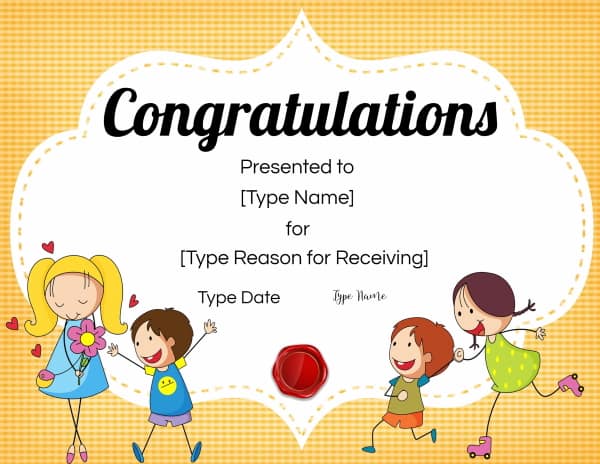 One of the nicest things that you can do when someone has an achievement or a special day is to congratulate them on their achievement. And, while a phone call or an email is always appreciated, it's nice to have a printable award to commemorate your accomplishment.
If you've never made this type of printable before, it can be a bit overwhelming trying to figure out what to write and where to put things. Using a congratulations certificate template makes the process a bit easier.
There are so many different kinds of congratulations certificates. You can literally create a printable congratulations award for almost anyone with our free certificate generator.  
Suggested Uses for These Awards
There are so many different types of award certificates that you can create. Here are some examples:
Kids congratulations awards
As parents, we are always proud of our children and want to let them know it. An award certificate is a great way to do that.
Birthday printables – It's always fun to wish someone a happy birthday. This year, instead of using a card, why not make a printable they can frame and remember for their special day? You can even list a few of their accomplishments when you create it.
Graduation printables – If your child or student has just graduated from kindergarten or will be heading to junior high next year, it's nice to give them something to remember their special day. Be sure to include things like clubs they belong to and any awards they've received.
Sports awards If your child was on a sports team, you can make a certificate congratulating them on their performance or their participation. Or, recognize them for completing a special tournament or event.
Congratulations, you did it! certificate – Kids grow up fast. They learn new things every day and it is important that we take the time to praise them for their achievements. We need to make sure that they know how proud we are of them and let them know that they have done a good job. Open the editable congratulations certificate and write "You did it!" at the top of the template.
Certificates for adults
Congratulations on your new job – This is one of the most popular types of awards for adults. Celebrate their special achievement whether it's a new job or a promotion with a printable award for their wall or their scrapbook. You can even include a gift card for lunch out along with the printable if you like.
Quitting smoking – Did a friend just quit smoking or achieve another health goal? Let them know how proud of them you are by making them an award. This can be used for weight loss or any other special health goal they're working toward.