Free certificate templates that can be personalized with your own text. They can be used for any purpose: Certificate of achievement, certificate of completion, certificate of appreciation, etc. You can also change the award ribbon icon and/or add your own logo.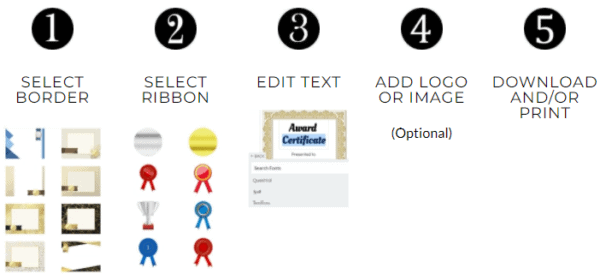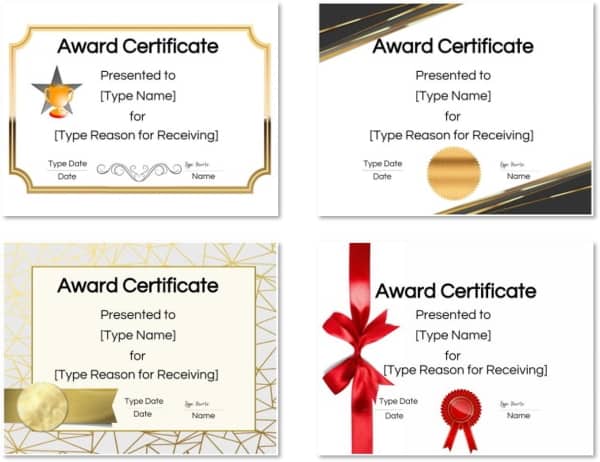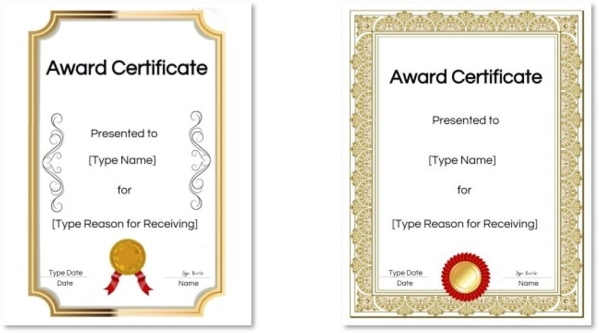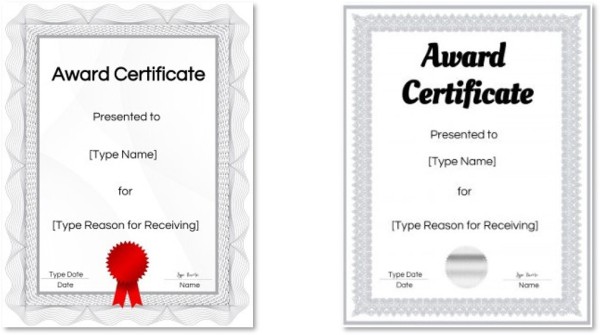 ---
How to Make a Certificate
You can make your own certificate with any of the certificate borders and award ribbons that we offer. The award certificates on this page are relatively formal but we also offer certificates for kids.
Open the certificate maker (see buttons below).
Select any blank award template.
Select a ribbon.
Edit the text.
Download and/or print the award certificate template free of charge.
Each printable certificate template can be customized to meet your needs.
See the instructions below to customize.
How to Change the Text on the Certificate Templates
Blank certificate templates can be used for any purpose if you change the text. They read "Award Certificate" but both the title and the rest of the text can be changed. For example, if you want to change it to "Certificate of Completion" then double click on the title and type the title that you would like to appear. Instead of the reason for receiving the award, you can describe the program or course that was completed.
If you want to make a blank award certificate, then delete all the text. To delete a text box, click on it and then click on the trash can in the bottom left corner.
How to Add another Signature
The template has one signature in the samples provided but you can add as many as you like or even delete it if nobody is going to be signing. To add another signature, just click on the A to add text. Type the name of the authorized person and drag it to the correct location. If necessary change the font so that it is the same as the other signature. You can also drag it to the right or left to make it bigger or smaller.
How to Delete the Signature
You might want the certificate to be signed by hand and therefore might want to delete the signature. To do this click on the little "x" in the bottom right-hand side of the text box.
You can use this method to delete any text on the template.
How to Change the Award Ribbon Icon
Each template has an award related icon such as an award ribbon. You can change the icon by clicking on another picture. It will replace the original one.