Buying or adopting a dog is an exciting occasion and one you will want to remember for years to come. A dog birth certificate is a great way to commemorate this exciting day.
Our free printable dog birth certificate template is totally customizable so you can customize it any way you want. Add a photo of your dog or puppy to personalize the birth certificate. You can also customize all text. If you select a certificate template that reads "birth certificate" and you want to change it to "adoption" then simply edit the text. You can use the pet birth certificate for a dog, puppy, cat, rabbit, hamster, etc.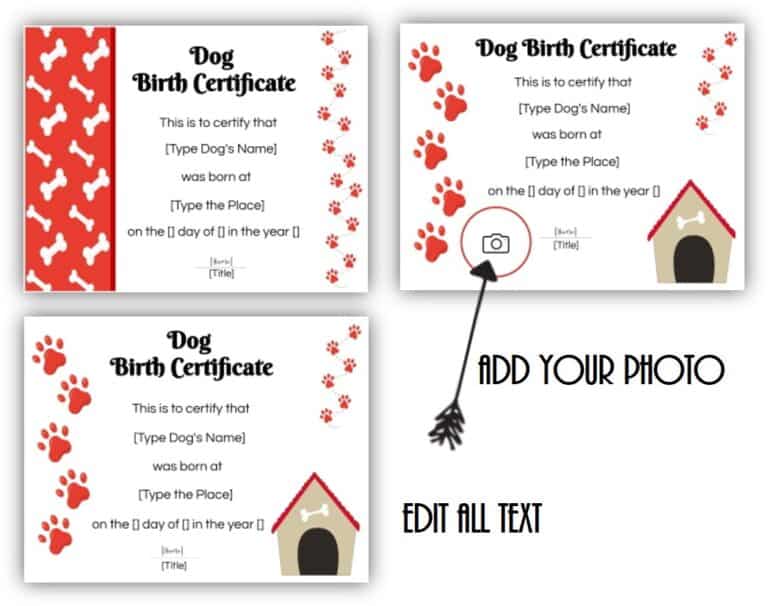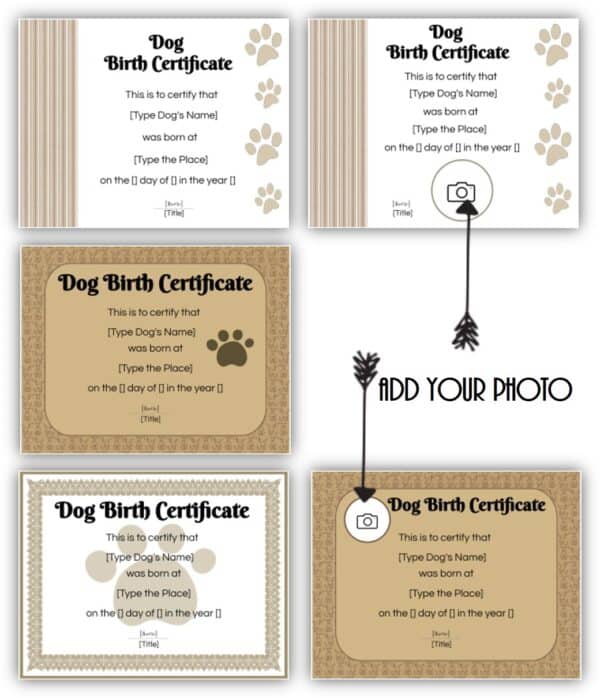 All the text is editable so feel free to change it to a puppy birth certificate if you prefer. You can also change all text to create a pet birth certificate.
Who can use these puppy birth certificate templates?
Dog shelters – when someone adopts a dog or puppy then print a dog adoption certificate to give them together with the dog. You can add the logo of your dog shelter and a sentence or two congratulating them on the decision that they made.
Pet stores – when someone purchases a pet award them with a pet birth certificate. If you don't know when the pet was born then you can give them a pet adoption certificate with the adoption date instead of the birth date. Add the name of your store and your logo if you have one. It is a great way to market your store as well. If the pet owners like the pet certificate they will hang it up somewhere where people will notice it and it is a great advertisement for your store.
Parents who buy or adopt a pet for their kids can print an adoption or birth certificate to give to their children together with the pet.
Proud owners of a new pet – if you have just bought or adopted a new pet you can make a pet birth certificate to formalize your new pet ownership. You can ask the pet shop owner or the pet shelter manager to sign the award certificate for you.
Please note that this is not an official pet birth certificate. It is fun to create and use but cannot be used for official purposes.